Sunday 21st May 2023
In the industrial history of North East of England one of the most persistent themes involves the extraction of raw materials – particularly coal. However, since the last deep mine closed in 2005 most of the infrastructure has disappeared, making it difficulty to appreciate the industry as it really was. A notable exception is Woodhorn Museum – formerly Woodhorn Colliery – near Ashington, which we visited the Sunday before last. To get straight to the point here's a short post to tell you how much we enjoyed it.
Stats at a Glance
Venue Woodhorn Museum | Location QE2 Country Park, Ashington, Northumberland NE63 9YF | Features Mining Museum, Ashington Group Gallery ('Pitman Painters') and Country Park | Hospitality Museum (Ca; WC); QE2 Park (Ho; PH) | Cost (Museum) £7 per adult (unlimited returns for 1 year); <16 years free & other concessions | Value Excellent | Parking Free | Website
History of Woodhorn Colliery
In 1894 the Ashington Coal Company – owners of Ashington, Ellington, Linton and Lynemouth collieries – sunk the first shaft at Woodhorn. It proved to be a successful pit, remaining operational until 1981, 34 years after being nationalised by the government in 1947. In 1966 its coal was transferred underground by conveyor to Ashington Colliery where it was brought to the surface. At its peak, Woodhorn produced 600,000 tons of coal in a single year. Fun fact: the colliery's two shafts – called 'heapsteads' – are almost as deep as the Eiffel Tower is high!
Coal is often described as 'hard won' which means it's a difficult, dangerous and often deadly business. That was certainly the case at Woodhorn which had 102 fatalities in less than a century. On Sunday 13th August 1916 'firedamp' was ignited underground, by a naked flame, killing thirteen miners. The memorial to that tragic event stands near the museum's entrance (while only individual headstones commemorate the many other deaths). Today, Ashington proudly claims to have been 'the largest pit village in the world'!
Woodhorn Museum
Since 1989 the colliery has had a new lease of life as Woodhorn Museum. What you get is a rare example of a pit which has retained its major buildings, including offices and stables, and much of the machinery. In the new Cutter Building you'll find reception, a gift shop, the Winding House Cafe and a compelling 'Coal Town' exhibition. Upstairs is the Northumberland Archives Study Centre and gallery spaces including the Ashington Group Gallery. The museum is located off the A189, close to Wansbeck Hospital, on southern edge of QE2 Park.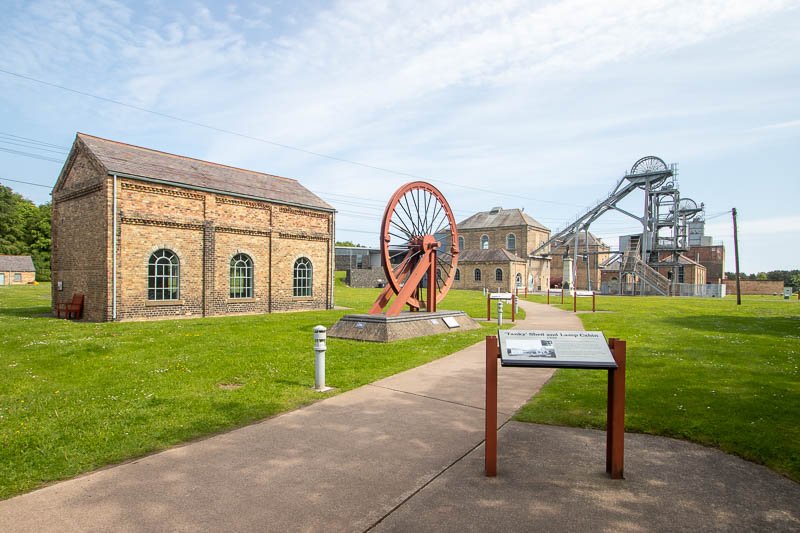 'Pitman Painters'
It was a humble 'art appreciation class' in Ashington YMCA which began the 50 year legacy of the 'Pitman Painters'. In 1934, Robert Lyon, from Armstrong College in Newcastle, came to Ashington to mentor miners in the techniques of painting. Using basic materials, the men painted scenes from their own lives, at home, at work, above and below ground. Such was their output that they converted a local hut into a permanent gallery – like those they'd seen in London. Over time, paintings were sold – or given away – while the best were retained in the 'Permanent Collection'. You can view this remarkable ensemble of paintings in the Ashington Group Gallery at Woodhorn Museum.
Queen Elizabeth II Silver Jubilee Country Park
Better known as 'QE2 Park' it's situated immediately to the north of the museum, linked by a trail on the northern edge of the car park. Now a popular facility, the park was opened by the Queen Mother during the summer of 1989 after being reclaimed from the former colliery's spoil heaps. It's focal point is a 40 acre (16 hectare) lake which is circumnavigated by a 1.5 mile woodland walk . If you fancy a drink, a meal or even a bed there's a motel and bar by the lake. It's an easy walk from Ashington for which there are bus services only, however, the Northern Line railway link is due to open in 2024.
Recommended?
Definitely! Although we went on a weekend we had the place almost to ourselves, never a bad thing in my book. There are free, guided tours for the Ashington Group Collection and colliery itself which are relatively short but informative. Combined with the multi-media 'Coal Town' exhibition you get a concise, detailed account of an industry and its people.
It's good value at £7 for adult entry with under-16's free. It's even better value that adult groups are £6.50 per adult and that return visits within a year are free. There's a large range of attractive merchandise with the 'Pitman Painters' theme to take away as a memento. My only criticism is the lack of a detailed guide book which I believe would be a big seller.