Tuesday 28th March 2023
A couple of weeks ago we made a long-anticipated visit to the National Museum of the Royal Navy Hartlepool located at the historic quay within the town's marina. The museum's showpiece is the frigate HMS Trincomalee which lies moored, rigged and seemingly ready to sail, alongside a busy quay painstakingly recreated by the museum to reflect the times of Lord Nelson's great victories.
Billed as the oldest floating British warship, Trincomalee is a Leda-class frigate – a classic design from a time when Britain was unarguably the dominant sea power. Due to cost and a shortage of domestic timber, she was actually constructed in India in 1817, during the final years of George III's reign. She saw two tours of active service before being retired as a training ship then, somewhat less gloriously, a holiday ship. In 1990 – terribly dilapidated but still intact – she was towed to Hartlepool for restoration. Her transformation is a breath-taking testament to collective vision, organisation, dedication and craftsmanship.
Short of being allowed to climb the rigging and fire the guns visitors are offered a creative, immersive experience of a bustling seaport at the turn of the c19th with all sorts of quayside activities – including press gangs. The dummies used to recreate the many scenes both on ship and in shops are utterly convincing. My personal favourites were the ship chandler's and the cafe where staff and food are real and prices disappointingly up to date (but reasonable nevertheless).
Attached to the navy museum is the equally fascinating, if more conventional, Museum of Hartlepool defined, as far as I'm concerned, by its showcasing of an event shared by Whitby and Scarborough further down the coast – the prolonged and devastating bombardment by German warships which took place on 16th December 1914. One of the most poignant artefacts on display is the 'bombardment clock', stopped by a still-embedded shell fragment at 8:03 am, the time the attack started. The museum offers a lot more and needs a report of its own.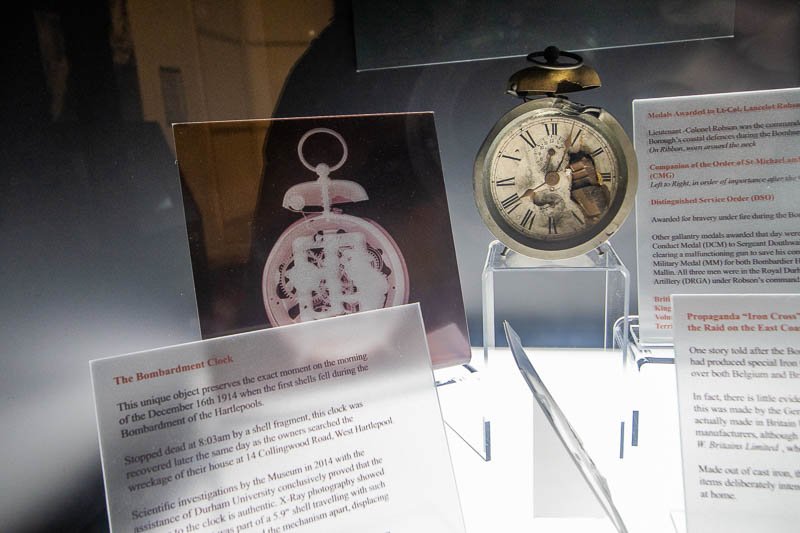 So, for £8 online or £10 on the day you get two museums for the price of one. The ticket lasts a full year which, in my book, represents super value. We'll certainly be heading back given that there was a new display opening soon after our visit. Although it's in the centre of Hartlepool access is good though improved slightly by arriving on the A179 from the north. Parking is cheap and plentiful directly outside the museum. I believe the museum's next restoration project is the paddle steamer PS Wingfield Castle which was actually built at Hartlepool and has functioned within the museum for some years. They also have a Rescue Motor Launch RML 497 in the adjacent hangar which, as far as were aware, wasn't open to visitors.
It should be clear by now that I enjoy museums but even so I'm frequently intimidated by the amount of information there is to take on board (no pun intended). Presentation is crucial, particularly written information which needs to be concise and sufficient (tough call but some museums achieve it including this one). Some audio works but I find it generally distracting. Well written and illustrated guide books that cover the technical minutiae are always appreciated and invariably purchased (my library is a large one).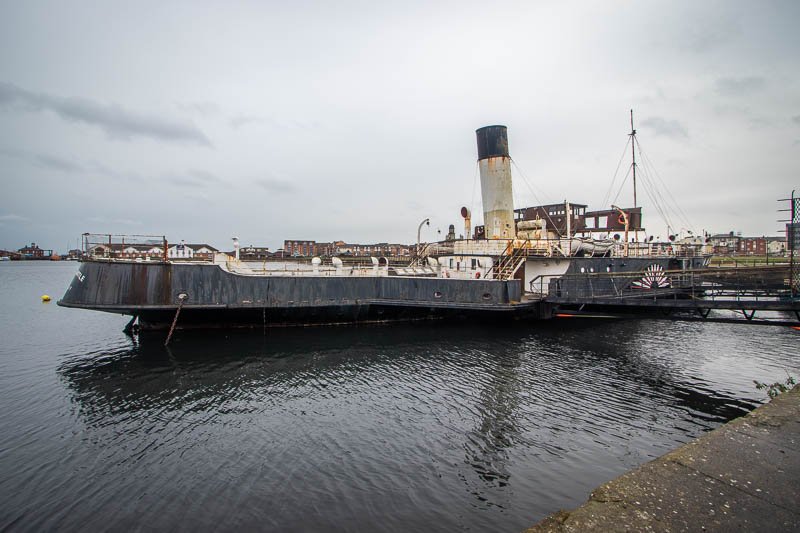 We invariably plan our visits during school term, however that often means swapping crocodiles of kids and harassed teachers for overly nurturing, loudly exclaiming, and hardly less harassed parents. It's a tough call though, as having been a parent myself I can still appreciate the difficulties.
In fairness, it's a brilliant experience for all ages and an environment – particularly the ship – to which kids are perhaps better suited than adults. Decks are low and beams hard; I suffered a 'tap on the napper' as soon as I was aboard (I asked the guide how the sailors avoided injury when the ship was pitching and rolling at sea and apparently they didn't!). All in all, it was money well spent and we both had a great time on a day I'll otherwise remember as being utterly 'dreek'. Highly Recommended.