Friday, 24th April 2020
If you've never heard of County Durham sculptor Ray Lonsdale and you live in the North East of England, you might be familiar with Tommy, a sombre, oversized sculpture of a war-weary soldier which dominates Terrace Green on the promenade at Seaham Harbour. Since it was installed in 2014, Ray's work has begun to pop up in all sorts of diverse place throughout the North – from Gretna Green to Swadlincote.
A steel fabricator by trade, Ray was born in South Hetton, County Durham where, in 2007, he set up a workshop called, somewhat obscurely 'Two Red Rubber Things'. Most of his work depicts the human form in some way or other, often in circumstances characterized by the industrial towns, villages, or fishing ports in which they're found. Overshadowed by his skills as an artist and craftsman are those of a poet. Many of his pieces include sensitive observations – often in verse – which makes for an even more reflective experience when you're eye-to-eye with them (spoiler alert: I've included all of them in the notes).
Although the fabrication technique is distinctive and the sculptures easily accessible, they're often inconspicuous – particularly those that are merely life-size – turning my quests to locate them into something of a treasure-hunt. The 'Corten' weathering steel he uses develops an organic, rust-like patina which blends subtly with the environment; it's an effect favoured by many artists, most notably by Antony Gormley for his 'Angel of the North'.
The following is a handy summary of what I believed were Ray's eleven County Durham sculptures before I realised that Hetton-le-Hole ('Men Don't Cry') is in the City of Sunderland, Tyne & Wear. Ten's a nicer number but I've included it anyway.
There is a ride associated with this post. Consult our map for accurate locations of the statues.
The Coxswain (2016)
Commissioned by East Durham Heritage Group and Lifeboat Centre for £24,000 this dramatic figure of a resolute lifeboat coxswain in 1950s-style life-jacket and oilskins steering an imaginary vessel to the rescue of mariners in distress was unveiled in November 2016. Sometimes referred to as 'Tommy's little brother' it's a tribute to Seaham's RNLI crews between the years 1870 and 1979 East Quay, Seaham Harbour Marina SR7 7EE.
Not Much To Ask (2018)
Commissioned by Cornforth Parish Council on the centenary of World War One, it replaced a statue of Sicilian marble that had stood on the plinth – dedicated to 41 local men who failed to return from the conflict – since 1922. That statue was lost in the 1970s after being removed to have its missing head replaced (believed to have been knocked off by drunken workmen). Of the 6 ft sculpture, Ray claims it's simply "…a man thinking about being back in County Durham" Mineworkers'Homes, Tursdale DH6 5PA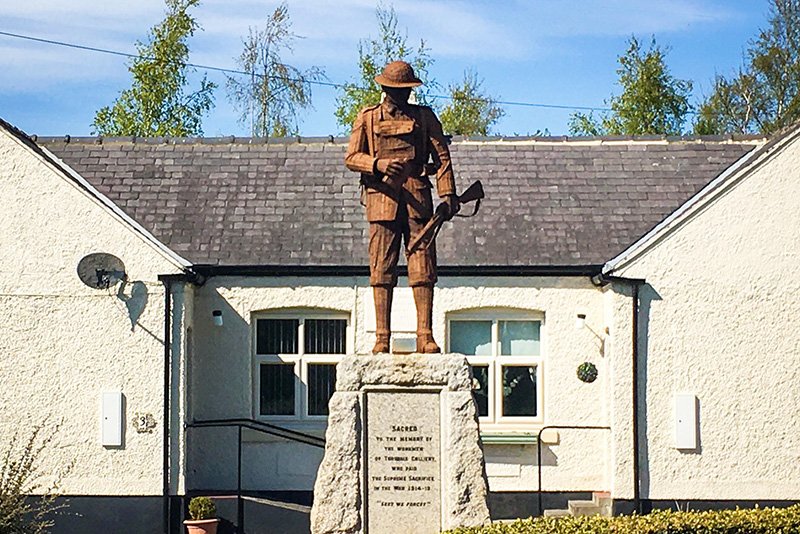 The Last Shift (2018)
This piece was commissioned by a committee which began at Wheatley Hill Mothers Club, for just over £25,000, and blessed by the Bishop of Jarrow when it was unveiled on 3rd May 2018 (exactly 50 years after the last shift at Wheatley Hill Colliery returned to the surface). It's based on a photo of Tom Davies, a miner at the pit, who has been modeled complete with cigarette and powder-box. The verse on the plinth, titled 'That's All Marra', reads "He looks to the place where his living was earned, lights a tab then turns away, faces a future where the edges are blurred, his tomorrow a different day" Wheatley Hill Cemetery DH6 3RA
Bonny Pit Lad (2016)
Weighing around 150 kg, this was a private commission based on a sketch the owner – who had it painted black – did at art school. A bonneted young lad waits, lamp in hand, opposite what was once the site of Wheatley Hill Colliery. The eponymous verse, composed by Ray, reads: "He searched the face of his pitman dad, and realised he too was once a bonnie pit lad. And there it was, his life laid out, childhood gone, a tad too old to play, a strong desire to run". The adjacent plaque describes the sculpture as being "a tribute to the young men who worked in [Wheatley Hill] colliery" where "a pit village was born" Miners Meadow, Wheatley Hill DH6 3QT
The Durham Angel (2004)
This is the earliest of Ray's public sculptures, produced when his business in South Hetton was still known as Anvil Engineering. It is 12 ft high and has a 20 ft wingspan. Ray was commissioned by Horns Garden Centre to create a replica of the Angel of the North but he thought that he could do something different. He described it in a news article in 2004 as a "…three-dimensional work built up with a mosaic of metal sheeting forming the outer skin" that would have "…a serene posture, something that would exude calmness" Horns Garden Centre, Shotton Colliery DH6 2PX
Tommy/Eleven-0-One (2014)
The correct title of this sculpture is 'Eleven-0-One' referencing the time of the official WWI armistice, 11 am on 11th November 1918. A British soldier – known as a 'Tommy' – sits slumped on an ammunition box, propped up by his rifle, evoking the collective weariness of a nation after years of bloodshed. Almost 3 metres tall and weighing 1.2 tonnes, 'Tommy' was ambitiously speculative on Ray's part and installed, only temporarily, in May 2014. It was a hit with the public however and a 'Save Tommy' campaign began which raised £120,000 by August its permanent installation on Terrace Green, Seaham Harbour SR7 7EU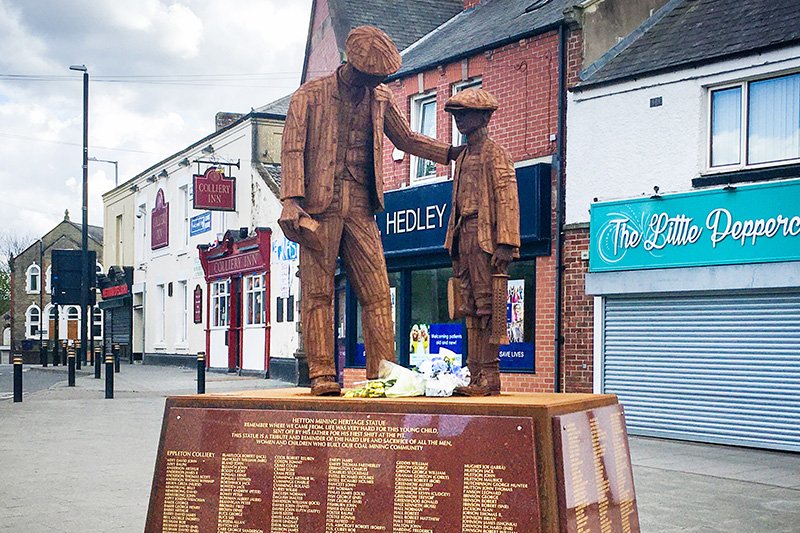 Da Said "Men Don't Cry" (2019)
Commissioned by Culture For Hetton (a consortium of Hetton residents and the local business community) and unveiled in April 2019. It cost around £51,000, part-funded by over 500 £25 private donations inscribed on the marble plinth. The scene would have been a familiar one: a miner and his son on the day the boy begins work at the mine. It evokes a period around 1860 when boys as young as ten were employed at pits like Eppleton, Elemore and Hetton Lyons, the sites of which have all been reclaimed. The verse on the plinth reads: "This is it bonnie lad, first shift down the pit. Go with your head held high, take care where you stand, take more where you sit. And don't let the lads see you cry. Forget the classroom with it's polished floors, some roads are not for us; there are many schools and this one's yours" Town Centre, Hetton-le-Hole DH5 9PF
The Village Remains… The Last Tub (2016)
This sculpture was commissioned by South Hetton Heritage Group for £26,000. The verse associated with it reads "Long gone the shaft, the tub, the face. Long gone the black coal stains. Wiped our hands, turned off the lamps, but the village still remains". The mural on the wall behind it was created on panels by artist John Foker of Bearpark Artists Co-operative. It was installed in August 2016 Robin Todd Community Centre, South Hetton DH6 2TT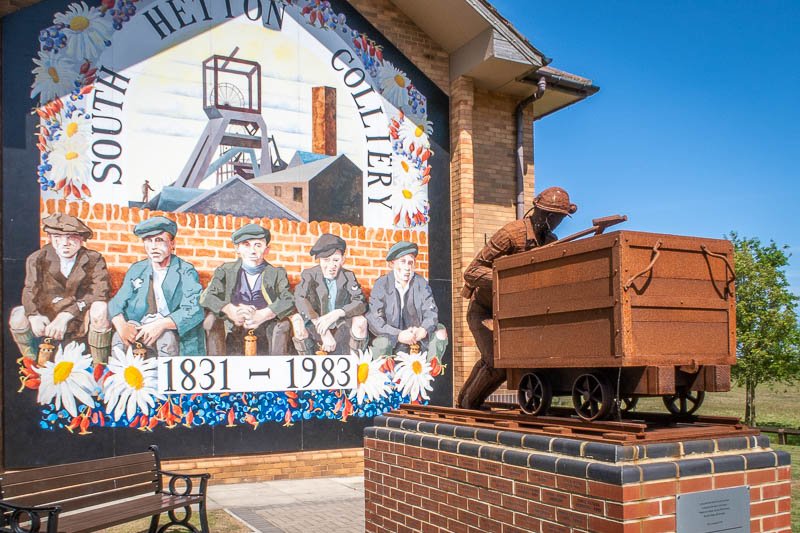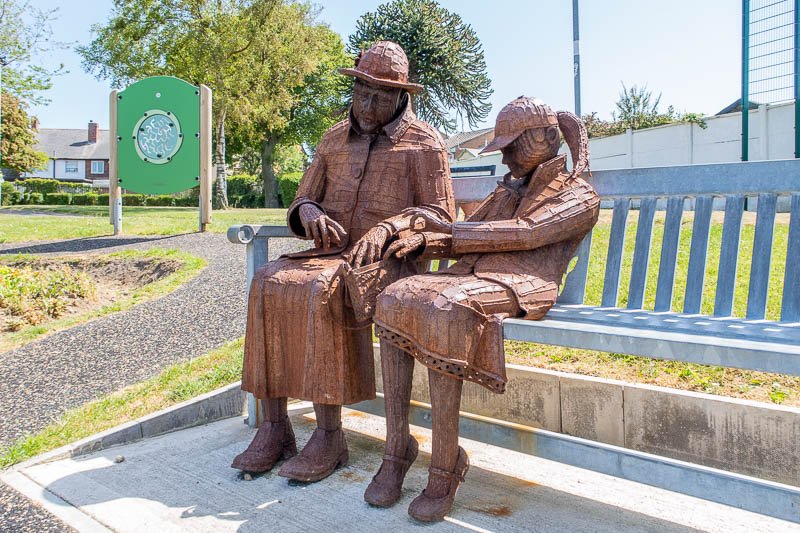 Relative Treats (2013)
This was another speculative piece that speaks about the relationships between generations. It was originally at the Artsbank, Saltburn before being toured during 2015 when it was displayed in Staithes, North Yorkshire and at nearby Dalton Park. It appeared at the Doddington Hall Sculpture Exhibition in 2016 before being bought by South Hetton Parish Council. The verse associated with this sculpture reads "Rake through that bag dear, and pull out if you see, a sweet for you and a painkiller for me". Welfare Park, South Hetton Cricket Club DH6 2TG
The Ball & The Bradford Boy (2017)
A helmeted soldier with rifle slung, is having a football pressed into his hand by a moustached civilian in a flat cap. The sculpture was unveiled in March 2017 having been commissioned to commemorate the centenary of a pair of Victoria Crosses (Britain's highest military honour) awarded to brothers born in the village. There were four brothers in all – sons of a colliery manager – known as 'The Fighting Bradfords'. All were highly decorated, with Roland (a brigadier-general at 25 and the youngest general ever to have served in the British Army) and George, a Lt Commander in the Royal Navy, receiving the VCs. Roland's came in 1917 for actions on the Somme before he was killed at Cambrai in the same year; George's was a posthumous award for outstanding gallantry during the Zeebrugge raid in 1918. Only one of the four, Lt Colonel Thomas Andrews Bradford DSO, survived the war Main Street, Witton Park DL14 ODY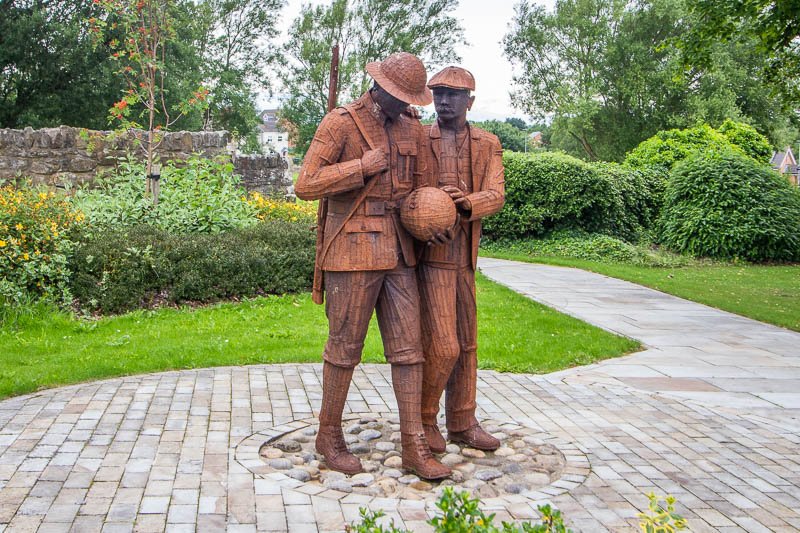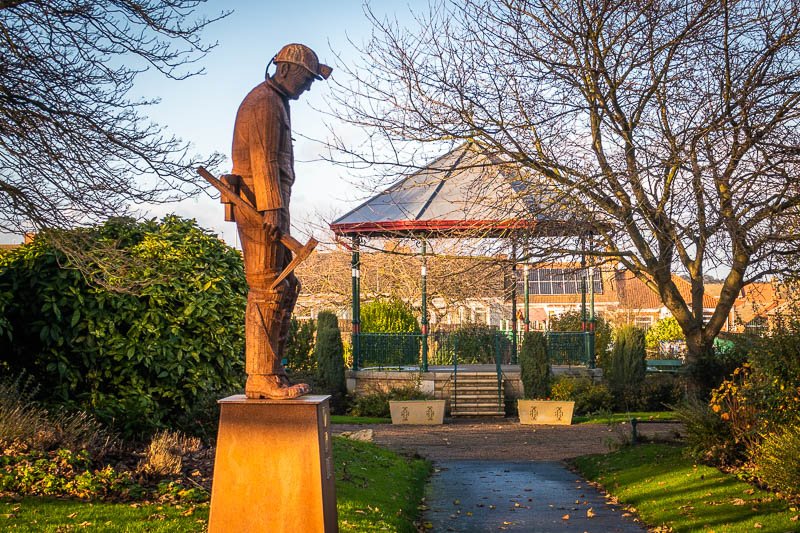 Marra/Ain't Gonna Work on Maggie's Farm No More (2015)
Unveiled on the 21st November 2015 by a group of Horden's oldest miners. 'Marra' was yet another speculative piece, eventually purchased by Horden Parish Council for £19,000. The name given to the 9 ft sculpture means 'friend' in the native dialect of North East England. There's a jagged hole in his chest which is the artist's response to the erection of a statue to ex-Prime Minister, Margaret Thatcher, whose program of pit closures were felt to have 'ripped the heart out of' communities like Horden. Ray's signature appears on the statue along with the following: "Dedicated to the coal miners of Horden. Toiled dark pit and seam, whose fortitude and indomitable spirit fueled the industry of Great Britain" Welfare Park, Horden SR8 4DE