Beaurepaire Manor House
Translating as 'beautiful retreat' from the French by which it was originally known, this now ruinous building stands on a promontory above the River Browney – two miles to the west of Durham City – in what was once the Prior of Durham Monastery's enclosed, 1,300-acre deer park. The location is still a pleasant one despite, for decades, having been in the shadow of the coal mines of Bearpark (to which it may have given its name albeit in corrupted form).
The manor house is often described, incorrectly, as a priory. It was actually commissioned as a lodge, by Bertram de Middleton who was Prior at Durham between 1244-1258, to be of sufficient grandeur to offer hospitality to royalty, as it did for the three Edwards – I, II & III – in their successive campaigns against the Scots. It was also used as a home for retired monks much like neighbouring Finchale (which actually WAS a priory). A century of development and extension followed until, in October 1346, the building was badly damaged when a Scottish army descended on the park before being defeated next day at the Battle of Neville's Cross.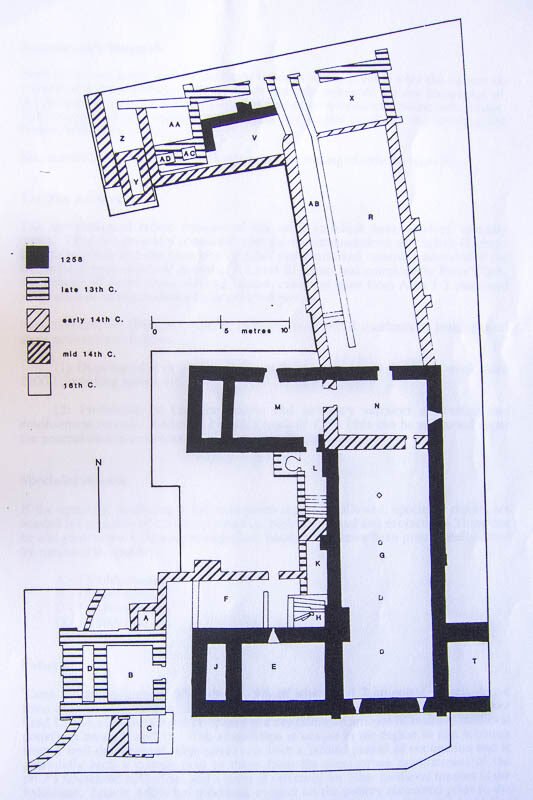 Rebuilt on the orders of Prior John Fossor soon after the battle, it remained unmolested for almost three hundred years despite the monastery itself being dissolved during the religious upheavals of Henry VIII's turbulent reign. In fact, the house continued to expand, eventually covering six acres (of which only a small part, including the chapel, has been excavated) in a site with an area of around thirty eight acres!
The Decline
Sadly, during the English phase of the Civil War, it was the Scottish Covenanter army, fighting on the side of Parliament, who once again brought the building to its knees. Cromwell's iconoclastic victory ensured that there would be no salvation leaving it to antiquarians and artists such as Samuel Grimm to record its remorseless decline.
Beaurepaire Today
What remains of Prior Bertram's vision can be visited today, still maintaining a quiet vigil over the Browney Valley's pastoral panorama in spite of the upheavals of its past. These days you'll find it tucked alongside Bearpark Hall Farm (NZ 243439) where its best approached on foot from several directions, all of which are pleasant, and one of which we've detailed in our Battle of Neville's Cross Walk.
The final few metres to the ruins is via a short but steep trail (sometimes muddy) off the access track near the bridge over the River Browney. You'll be unlucky to find yourself sharing them with others so it's the perfect place for quiet reflection. The walls offer some shelter but no cover; nevertheless, it's an ideal place to enjoy a picnic on a sunny day.